Please: Respect the forest when gathering plant materials for leis. Always get a permit to gather on State land. (Its free!) And, if youre serious about lei-making, start your own lei garden.



This is Marie McDonald's manao (thought) with the approach of the Big Island's thrilling 31st annual hula and chant competition honoring King David Kalakaua, the Merrie Monarch, April 4th through the 10th.

Marie, whose 10-acre flower farm on Waimea Hawaiian Homestead lands provides a bounty for lei-making, is one of Hawaii's most respected floral kupuna. Author of "Ka Lei --The Leis of Hawaii," the definitive book on lei-making, Marie has been singled out as a native Hawaiian "living treasure" by the Smithsonian Institute. Her skills, scholastic research and documentation, and eagerness to teach the art have earned her National Endowment of the Arts honors.

With the lei so closely tied in ancient times to traditional Hawaiian religion, music, poetry and lore, and today linked to the worlds image of Hawaii, its hard to believe that Hawaiis lei-making techniques were on the verge of disappearing 40 years ago.

Not so any more. A visit to lei shops around the state shows lei-making is vibrantly alive.

Where did it begin for Marie?

"We grew up on Molokai making leis, but I had so much to learn," said Marie.
How much? Today, this authority on things Hawaiian admits she graduated from Kamehameha Schools not even knowing what the names on the campus buildings were for. But it wasnt until Marie came home with a degree in art education from Texas Woman's University after World War II that she realized how little she knew about her own Hawaiian culture.
Thus, when Marie began her arts and crafts career with the City and County of Honolulu Department of Parks and Recreation, she also began spending hours at the public library and asking questions of oldtimers.
Among those she talked to was her cousin, Lydia Aholo who was raised in the household of Queen Liliuokalani.
"She would tell me wonderful stories. One concerned my great grandparents. They were caretakers for the Queen's summer home in Haleiwa and when they would come from the country they would bring white ginger leis and leave them in the recephon hall in Washington Place. Lydia always knew when they had come. The Queen would give the leis out to the household."
Marie also was impressed by the unusual leis people entered in the May Day Parks Department competition. She was determined to preserve them.
THE HANDS OF AUTHORITY - Marie demonstates a closeup of the
tedious care required to string a kika (cigar) lei.
"A lot of the leis typical of the 1800's had not been made for a long time. One reason is because in World War II there were many areas of the forest where you couldn't go to gather things like maile.
As a result, the Hawaiians who needed a green leaf lei came up with mock orange."
"I can hardly believe what they are doing with leis today! People are so creative, really inventive and I like to think I had a part in that," she said.
She believes true artists, whatever their mode of expression, have to take the traditional and add to it, not be bound by it.
Marie likes to think of people in the year 3000 studying their past history and saying, "Well, look at the difference... this is what they were doing with leis in the 1850's, and then look what they were doing in 1950 and 2050."
"We're supposed to evolve, to grow, to get better," she said.
McDonald retired following two decades of conducting countless lei and art classes for the Honolulu parks department, and another six years teaching art and Hawaiian studies with the Department of Education in Kohala.
She is fully occupied with her farm and became a driving force in starting Waimea's thriving 14-month-old Hawaiian Homesteaders Farmers Market from 7 a.m. to noon each Saturday at Kuhio Hale -- the Hawaiian Homestead hall.

After first publishing her book, "Ka Lei" in 1978, Marie assisted with field research on lei traditions associated with Hawaiian ranching, interviewing cowboys on every island and even locating a lei-maker on Maui who could tell her about the now rare lei made of sisal fiber scraps -- the "lei malino." Her studies led to a chapter in the recently released "Na Paniolo" book, an authoritative piece that documents ranching traditions of Hawaii.
Across Generations - Marie works with her granddaughter, Amy Mills, to gather minute kika(cigar flower) blossoms for leis. Amy-who is profiecient at making this tedious but beautiful lei-and her family live with Marie and Bill...three generations caring for the farm and passing on the knowledge and skills of the master lei-maker.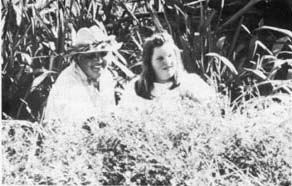 And she's hard at work on a new book on rare pre-contact leis of Hawaii. Her research includes experiments with raising seldom seen plants and flowers of old Hawaii.
Its Marie's interest in the older forms of lei-making from native plants and seed materials that has led to her adamant efforts to influence fellow lei-makers to take better care of their sources --the forests and other areas where
they gather blossoms and greenery.
She urges lei-makers to get the free permit from the State Department of Land and Natural Resources Forestry Division before going onto State forest lands. And then to observe the rules -- not trampling ferns or breaking branches, not over-picking or uprooting plants.

McDonald's Farm - since retiring, Marie McDonald and her husband, Bill, have spent 14 years developing their
10-acre flower farm in Waimea's Hawaiian Homestead farmlots. Here they are shown harvesting protea
"pin cushions" to ship weekly to Honolulu florists.
Better yet, she is leading a movement to encourage lei-makers to start lei gardens in their yards to slow down gradual depletion of native forests.
"Its easy to grow palapalai and 'ohia lehua. If 'ohia is kept short and pruned, you'll always have nice liko," she said.
So urgent is Marie's concern for preserving leis of old yet respecting forest sources that she turned her expert lei-making hands to a new art form -- block printing. Her pieces depict ritual gathering in native forests of liko, maile, 'ie'ie and palapalai ferns. Her block prints also honor lei-draped kumu hula (teachers) who are as vital to perpetuating Hawaii's lei traditions and teaching respect for the forests as they are to preserving hula and chants of old.
Marie's block prints will be exhibited for the first time during this year's Merrie Monarch Festival at Cook's Discoveries in Waimea's Historic Spencer House. Marie also will present a four-hour workshop on lei-making and how to start a lei garden. Native plants materials will be available, including small 'ohia plants, palapalai ferns and kika.
Of course, Marie's and daughter Roen's leis can be found each Saturday at the Farmers Market alongside her son-in-law Ken Hufford's exceptional organic vegetables.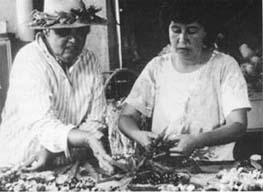 Mother-Daughter - Roen Hufford(right), Marie's daughter, an expert lei-maker who has learned much from mom, is given some advise on the fine points of a treasured palapalai fern lei.
"Whether made with your own hands or purchased, a lei must be at its peak of beauty so that both the giver and receiver experience that moment of shared love at its fullest," said Marie.
Editors Note: Patti Cook was born and raised in Hawaii and with husband Bill, owns Cook's Discoveries in Waimea's Historic Spencer House.